MENTOR® Leadership Assessment
MENTOR® is a powerful, research-based leadership assessment tool used to measure current and future leadership orientation, identify targeted needs for development, and identify candidates likely to succeed in high level positions. MENTOR® is based on decades of research on connections between personality, conceptual ability and leadership effectiveness.
Shall you wish to play at the casino, you will encounter some of the most popular casino games such as blackjack, baccarat, poker, roulette and many slot games. As for customer support, Gossip Slots offers around-the-clock care by live chat, phone and email. Head over to the William Hill Sports Book for more ways to watch and win casino juegos. For less urgent enquiries, you can also email them via support@powerspins.
WHAT CAN MENTOR® DO FOR YOU?
MENTOR® helps you put the right people in leadership positions
MENTOR® can predict leader success by measuring attributes that facilitates competent behavior. This web-based assessment is cost effective, minimizes disruption of work activities, and quickly delivers a feedback report on leadership strengths and areas of concern. At your organization MENTOR® can:
FOSTER INDIVIDUAL DEVELOPMENT
FIND HIGH POTENTIAL PERFORMERS
PERFORM POSITION-FIT ANALYSES
BUILD HIGH-PERFORMING LEADERSHIP TEAMS
ENABLE EXECUTIVE SELECTION
MENTOR® MAPS TO OPM'S EXECUTIVE CORE QUALIFICATIONS
Identifying employees who embody ECQs leads to successful teams that produce results for their customers.
The MENTOR® framework characterizes employee personality, skills and preference in the "Big Five" dimensions of effective leadership:
Originality
Leadership potential
Temperament
Task vs. People Orientation
Organization and execution
These dimentions relate to the US Office of Personnel Management's five Executive Core Qualifications. Relationships between the Big Five dimensions and the ECQ dimensions are critical for identifying leadership needs in your organization.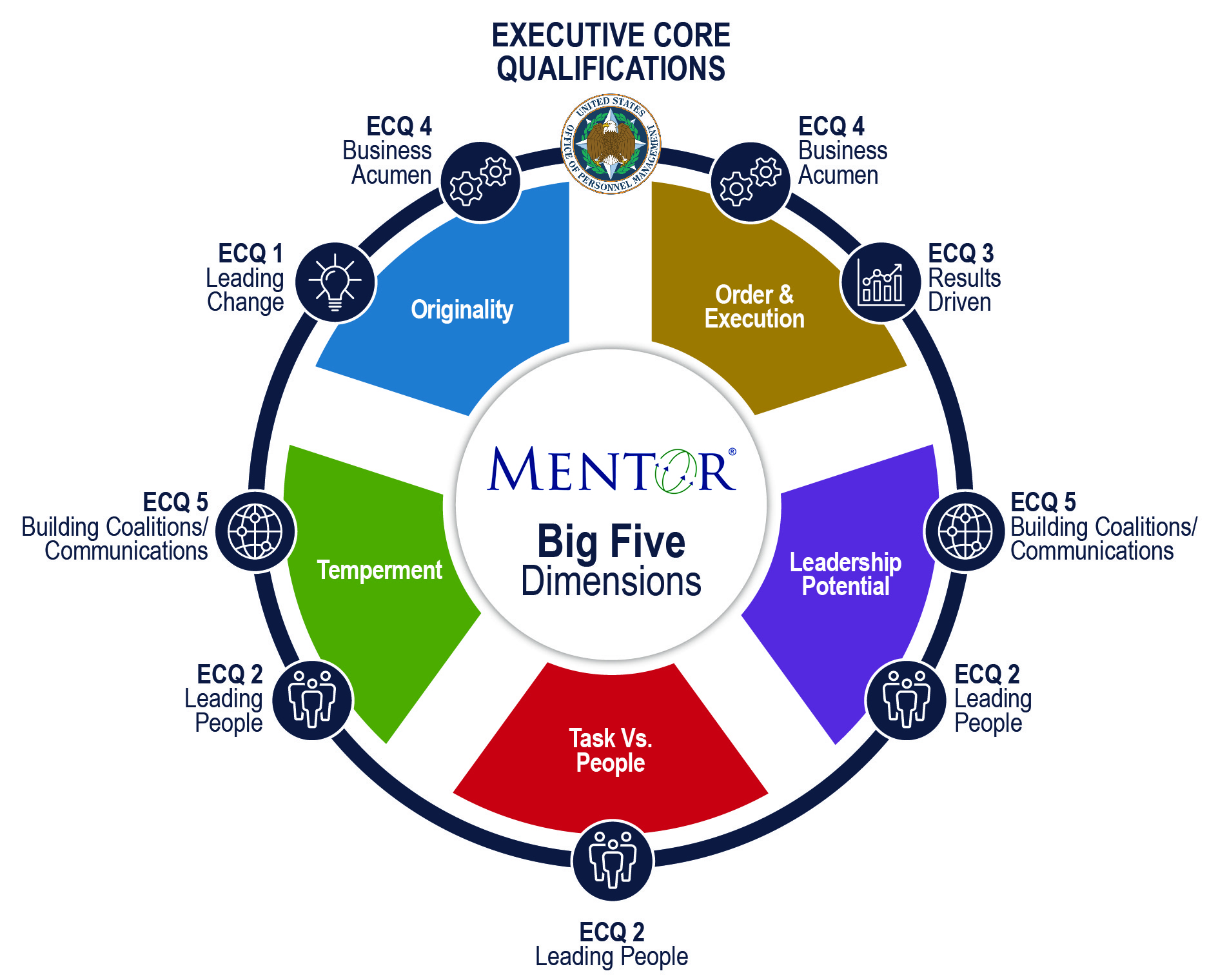 Paltech is a licensed provider of 3B LLC Incorporated's MENTOR<sup>®</sup> leadership assessment tool to our U.S. Federal Government customers.